General Options Page
Description | Controls | Displaying | Keyboard Shortcuts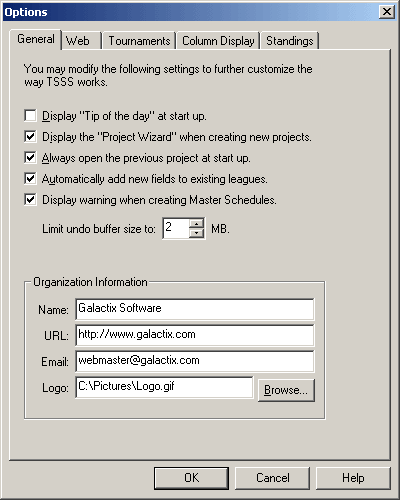 Use this page to change the following settings.
Web page
Contains website generation settings.


Tournament page
Change the way tournament brackets are drawn and what is displayed.


Column Display page
Choose which columns are displayed in each of the game lists.


Standings page
Choose the number of points assigned for wins and losses and configure tie breaker methods.


Display "Tip of the day" at start up check box
Check this item to display the Tip of the Day dialog when the Round Robin Scheduler starts.


Display the "Project Wizard" when creating new projects check box
Check this item to display the Project Wizard dialog when creating new project.


Always open the previous project at start up check box
Check this box if you would like the Round Robin Scheduler to automatically open the last project when it start.


Automatically add new fields to existing leagues check box
Check this option if you would like fields created after leagues to be added to the existing leagues.


Name edit
Enter the organization name here.


URL edit
Enter the organization web page address here.


Email edit
Enter the organization email contact address here.


Logo edit
Enter the path to the logo file for this organization here.


Browse button
Click the button to display the Open dialog which will allow you to find where the logo file is stored.


OK button
Saves changes and closes the dialog box.


Cancel button
Closes the dialog discarding changes.
This dialog is displayed by choose Options from the Tools menu. Click the General tab to display this page.
None
---
Note: Some features described in this help file are only available in the Team Sports Scheduling System.