Web Options Page
Description | Controls | Displaying | Keyboard Shortcuts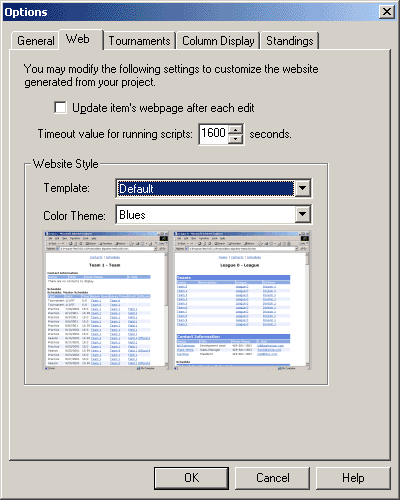 This dialog is used to customize the web page generation provided by this program.
General Information page
Allows you to enter the organization name and change other properties.


Tournament page
Change the way tournament brackets are drawn and what is displayed.


Column Display page
Choose which columns are displayed in each of the game lists.


Standings page
Choose the number of points assigned for wins and losses and configure tie breaker methods.


Update item's webpage after each edit check box
Check this item to have an item's webpage automatically regenerated after it has been edited. On some systems running scripts takes a long time to it may be beneficial to disable this feature.


Choose a style combo
Displays the available web templates installed on your computer and allows you to change they website generated for your project.


OK button
Saves changes and closes the dialog box.


Cancel button
Closes the dialog discarding changes.
This dialog is displayed by choose Options from the Tools menu. Click the Web tab to view this page.
None
---
Note: Some features described in this help file are only available in the Team Sports Scheduling System.