Game Information Page
Description | Controls | Displaying | Keyboard Shortcuts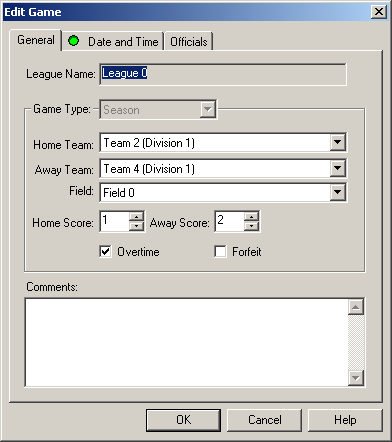 The Game Information page is used to specify the home and away teams, the field, score, and comments.
Date and Time page
Specify the date, time, and duration for this game.


Officials page
Set or modify the officials for the game.


League Name edit
If available, the league who owns this event.


Game Type combo
The type of game this is.


Home Team combo
Select the home team here.


Away Team combo
Select the away team here.


Field combo
Select the field for game play here.


Home Score edit
Enter the home team's score.


Away Score edit
Enter the away team's score.


Overtime check box
Check this box if the game went into overtime. When calculating standings, this item is used to calculate overtime loss points.


Forfeit check box
Check this box if this game was a forfeit.


Comments edit
Enter any comments about the game here.


OK button
Saves changes and closes dialog box.


Cancel button
Closes the dialog discarding changes.


The Edit Game dialog is displayed by double-clicking a game in the event lists, or by clicking the Add or Edit buttons on one of the screens. Click the General tab to view this page.
None