Game Date and Time Page
Description | Controls | Displaying | Keyboard Shortcuts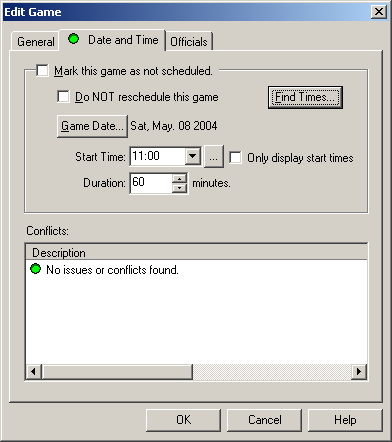 The Game Date and Time page is used to specify when this game is played. Use the conflicts list to see if the edits you have made to the game cause any potential problems to the rest of the schedule. If conflicts arise, you will not be able to save your edits.
General Information page
Allows you to change teams, fields, enter score, and add comments.


Officials page
Set or modify the officials for the game.


Mark this game as not scheduled check box
This check box is set if this game hasn't yet been scheduled. Before you can manually reschedule this game, you must uncheck this check box.


Do NOT reschedule this game check box
Tells the scheduler to not reschedule this game the next time you have the schedule auto generated. This is useful when you have a certain day and time that two teams must play each other.


Find Times button
Click this button to display the Find Game Times dialog which allows you to quickly search the season for available game times.


Game Date button
Allows you to change the date this game as scheduled for by displaying the Select Date dialog.


Start Time combo
The time during the day when this game starts. Select a new time and type one in to change the start time.


Duration edit
The number of minutes this game takes to play.


Conflicts list
If there are any conflicts or warnings, they will be displayed in this list. You will have to resolve any conflicts before you can save changes to the game.


OK button
Saves changes and closes dialog box.


Cancel button
Closes the dialog discarding changes.


The Edit Game dialog is displayed by double-clicking a game in the event lists, or by clicking the Add or Edit buttons on one of the screens. Click the Date and Time tab to view this page.
None