Tournament Name Page
Description | Controls | Displaying | Keyboard Shortcuts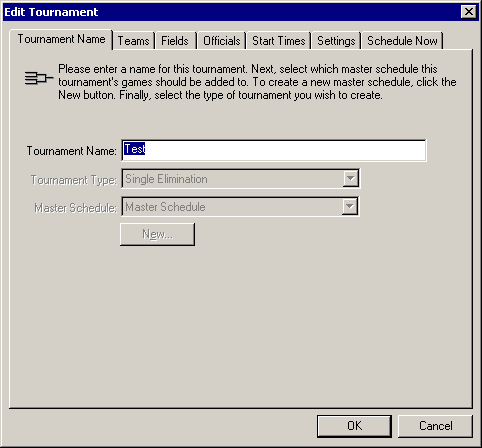 This Tournament Name page allows you to specify the name, type, and master schedule for this tournament schedule. Once a tournament schedule has been created, the type and master schedule can not be changed.
Teams page
Specify which teams will be playing in this tournament.


Fields page
Choose which fields should be used for tournament game play.


Officials page
If officials should be schedule, this screen allows you to specify which ones and how many per game.


Start Times page
Specify the start times and exceptions for tournament game play.


Settings
Change the season dates and other constraints.


Schedule Now
Allows you to have TSSS automatically schedule the games.


Tournament Name edit
Allows you to specify a name for this schedule.


Tournament Type combo box
Choose the type of tournament you would like to create. The following options are available:



Single Elimination - Teams play until they lose. Once they lose, they are kicked out of the tournament.

Double Elimination - Teams must lose twice before being kicked out of the tournament. When a team loses the first time, it moves down to the losers bracket. Once in the losers bracket, a team still has a shot at the championship game provided it doesn't lose again.

Consolation - Teams must lose twice before being kicked out of the tournament. When a team loses the first time, it moves to the consolation bracket. Unlike the double-elimination tournament, once in the consolation bracket there is no more play with the winning bracket. The tournament ends with a tournament winner, and a consolation winner.

Consolation First Round Losers Only - If a team loses after the first round in the tournament (from the winning brackets or the consolation brackets), they are kicked out. Teams losing the first round game in the tournament continue on in the consolation round.




Master Schedule combo box
Choose which master schedule you would like the games for this schedule saved too. If you want to create a new master schedule, click the New button.


New button
Creates a new master schedule by displaying the Create/Edit Master Schedule dialog.


OK button
Saves the changes.


Cancel button
Close the dialog discarding changes.

The Create/Edit Tournament Schedule dialog is displayed whenever you choose to create or edit a tournament schedule. This may be from the New dialog, the Creation Toolbar, and even the Project Tree. Click the Tournament Name tab to display this page.
Alt+Ctrl+S