League Fields Page
Description | Controls | Displaying | Keyboard Shortcuts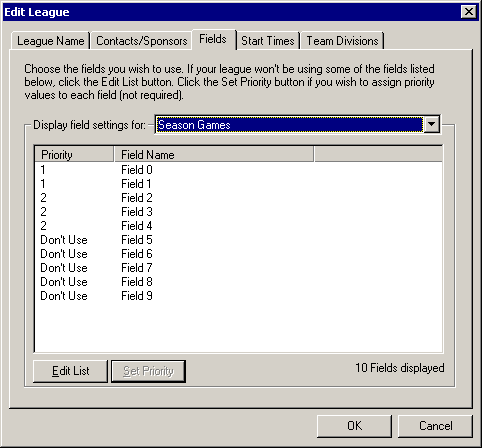 Use the Fields page to pick which fields this league will use for season, practice, and tournament games, and also specify the priority each field should have. Fields with a priority of one will be scheduled before a field with a priority of two. This is helpful when you have a pool of fields you can use for game play. Some fields may be better than the others, so you may want to use the better fields first if possible.
League Name page
Allows you to specify the league name and other information.


Contact/Sponsor page
Allows you to assign contacts and sponsors to this item.


Start Times page
Specify the start times and exceptions for game play.


Team Divisions page
Add and move teams between divisions, as well as create new divisions.

Display settings for: combo box
Allows you to change between setting for Season, Practice, and Tournament games. You can specify different fields for each of the different game types. Changing the selection in this list will update the Field list with the appropriate settings.


Field list
Displays the list of fields and their priority for the selected game type specified in the Display settings for combo box.


Edit List button
Displays the League Field Selection dialog allowing you to add and remove fields from the list. To set the priority value for an individual field, double-click it in the list. To set the priority value of many fields in the list at the same time, select them all and click the Set Priority button.


Set Priority button
Displays the Set Priority dialog allowing you to change the selected field(s) priority.


OK button
Saves the changes.


Cancel button
Close the dialog discarding changes.


The Create/Edit League dialog is displayed whenever you choose to create or edit a league. This may be from the New dialog, the Creation Toolbar, and even the Project Tree. Click the Fields tab to view this page.
Alt+Ctrl+L