League Divisions Page
Description | Controls | Displaying | Keyboard Shortcuts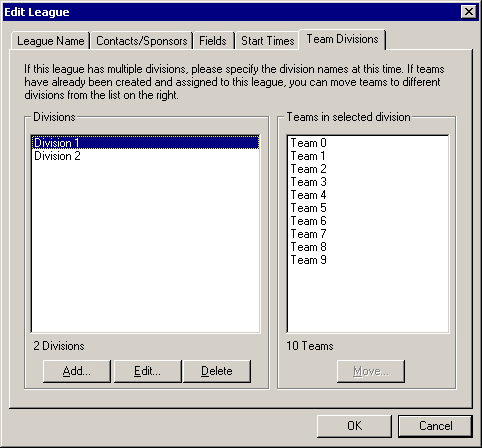 Use the Team Divisions page to create new divisions for a league, and also move teams from one division to another.
League Name page
Allows you to specify the league name and other information.


Contact/Sponsor page
Allows you to assign contacts and sponsors to this item.


Fields page
Assign priority values to fields.


Start Times page
Specify the start times and exceptions for game play.


Divisions list
Displays the list of divisions in the league.


Add button
Displays the Division Name dialog allowing you to create a new division with the specified name.


Edit button
Allows you to edit the currently selected division in the Divisions list by displaying the Division Name dialog.


Delete button
Deletes the currently selected division provided there are no teams left in the division. First move the teams out of the division you would like to delete by selecting the teams in the Teams list and clicking the Move button. Note: all leagues must have at least one division.


Teams in selected division list
Displays the list of teams in the division selected in the Divisions list.


Move button
Moves the selected teams to a new division. Clicking this button will display the Select Division dialog.


OK button
Saves the changes.


Cancel button
Close the dialog discarding changes.


The Create/Edit League dialog is displayed whenever you choose to create or edit a league. This may be from the New dialog, the Creation Toolbar, and even the Project Tree. Click the Team Divisions tab to view this page.
Alt+Ctrl+L