Import Setup
Description | Controls | Displaying | Keyboard Shortcuts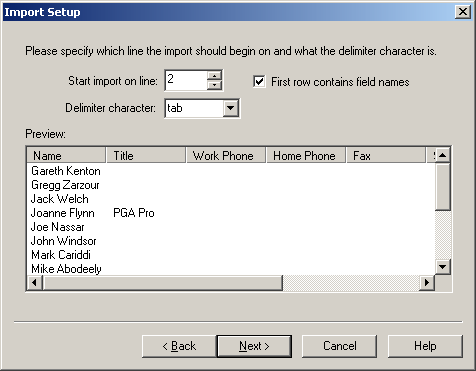 Use the controls on this page to make the import preview section look correct. Select which line to start the import on, the delimiter character, and whether or not the first data row contains field headings.
Start import on line edit
Choose the first line to start importing data on. Changing this value updates the Preview list below.


First row contains field names checkbox
Choose this option if the first row of data you are importing contains the field headings.


Delimiter character combo
Select the character used in the data file to mark the break between fields. The most common delimiter characters are , (commas), and tab.


Preview list
Displays a preview of how the imported data will be interpreted. This list is updated whenever one of the above settings is changed. When the data looks correct in this list, click the Next button.


Back button
Returns you to the Choose Data page.


Next button
Continues on to the Choose Fields to Import page.


Cancel button
Closes the dialog without importing any data.


This dialog is display by choosing Import... on the File menu.
None
---
Note: Some features described in this help file are only available in the Team Sports Scheduling System.