Tournament Teams Page
Description | Controls | Displaying | Keyboard Shortcuts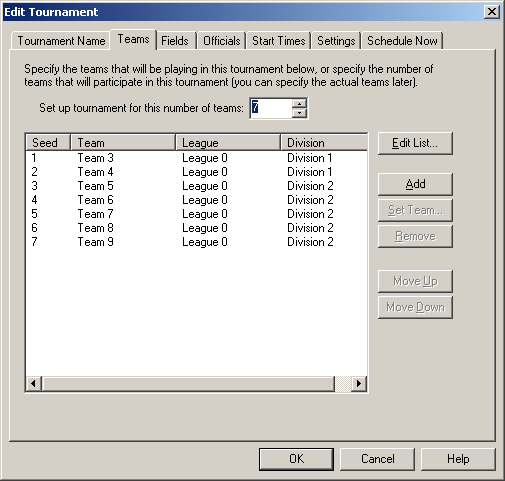 The Tournament Teams page is used to specify how many and which teams will be taking part in this tournament. To create a blank tournament, just specify the number of teams to use. You can then specify the teams at a later time.
Tournament Name page
Allows you to specify the name, type, and master schedule for this tournament.


Fields page
Choose which fields should be used for tournament game play.


Officials page
If officials should be schedule, this screen allows you to specify which ones and how many per game.


Start Times page
Specify the start times and exceptions for tournament game play.


Settings
Change the season dates and other constraints.


Schedule Now
Allows you to have RRS automatically schedule the games.


Set up tournament for this number of teams edit
Enter the number of teams to take part in this tournament here.


Teams list
Lists the teams currently in this tournament in seeded order. To change a team's seed, select it in the list and use the Move Up and Move Down buttons. To set a team, select the team in the list you wish to set and click the Set Team... button. Note that the teams must already be created in the project for you to set a team name.


Edit List button
Allows you to add and remove many teams at once to the tournament by displaying the Select Teams dialog.


Add button
Add a new team to the tournament. Displays the Select Team dialog.


Set Teams button
Allows you to set the currently selected team to a new team by displaying the Select Team dialog.


Remove button
Removes the selected team(s) from the tournament.


Move Up button
Moves the selected team(s) up in the seeding.


Move Down button
Moves the selected team(s) down in the seeding.


OK button
Saves the changes.


Cancel button
Close the dialog discarding changes.

The Create/Edit Tournament Schedule dialog is displayed whenever you choose to create or edit a tournament schedule. This may be from the New dialog, the Creation Toolbar, and even the Project Tree. Click the Teams tab to display this page.
Alt+Ctrl+S
---
Note: Some features described in this help file are only available in the Team Sports Scheduling System.