Start Times Page
Description | Controls | Displaying | Keyboard Shortcuts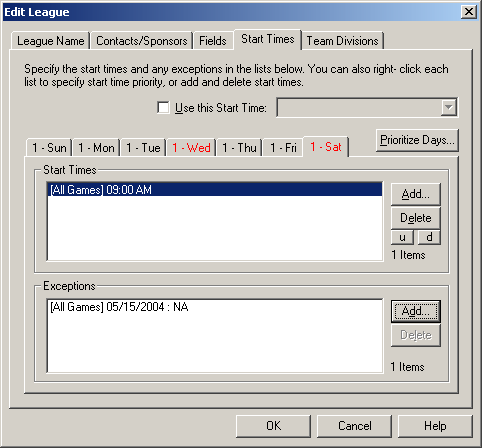 Use the Start Times page to specify the game start times. You can also specify exception dates, prioritize which day of the week to schedule games at first, and also make this item's start time dependant on another items (like setting a team to use the league's specified start times instead of re-entering all the information).
Use this Start Time check box
Set this check box to set this item to use the selected item's start times when the scheduler asks it for game times. This is useful when you have a number of teams that all have the same game start times. Instead of adding the same information to all of them, just add it to one (the league), and select that in the combo box..


Use this Start Time combo box
If an item is selected and the Use this Start Time check box is checked, the scheduler will refer to the selected item to find get game start times.


Day of Week tabs
Select the day of the week to view the start times for. If there are start times on a day, the tab name will turn red. The number preceding the day of the week text signifies the priority for that day.


Prioritize Days button
Displays the Prioritize Days dialog and allows you to specify different priority values for different days of the week. The scheduler will first pick days with a priority value of one when scheduling before picking a day with a priority of two.


Start Times list
Lists the start times on the selected day of the week.


Add Start Time button
Displays the Enter Start Time dialog allowing you to add start times on one or more days of the week.


Delete Start Time button
Deletes the selected start time in the list.


u button
Moves the selected start time(s) up in the list. When attempting to schedule games, the scheduler picks start times in the order they appear in this list. So if you would rather have a later start time used before an earlier one, have the later start time appear at the beginning of the list.


d button
Moves the selected start time(s) down in the list. See the comments for the u button above.


Exceptions list
Lists the exceptions that fall on the selected day of the week.


Add Exceptions button
Displays the Exceptions dialog allowing you to specify a different start time, or mark the item as not available for game play on the selected date.


Delete Exceptions button
Deletes the selected exception in the list.


OK button
Saves the changes.


Cancel button
Close the dialog discarding changes.


The Start Times page is displayed on the Create/Edit League, Create/Edit Team, and Create/Edit Tournament dialogs.
None
---
Note: Some features described in this help file are only available in the Team Sports Scheduling System.