Practice Name Page
Description | Controls | Displaying | Keyboard Shortcuts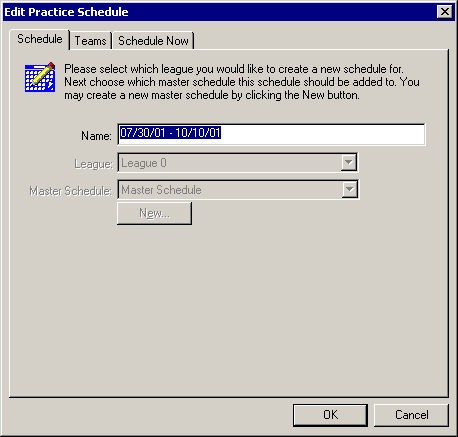 This Practice Name page allows you to specify the name, league, and master schedule for this practice. Once a practice has been created, the league and master schedule can not be changed.
Teams page
Specify which teams to schedule practices for.


Schedule Now page
Allows you to have RRS automatically schedule the games.


Name edit
Allows you to specify a name for this schedule.


League combo box
Choose which league you would like to create this schedule for.


Master Schedule combo box
Choose which master schedule you would like the games for this schedule saved too. If you want to create a new master schedule, click the New button.


New button
Creates a new master schedule by displaying the Create/Edit Master Schedule dialog.


OK button
Saves the changes.


Cancel button
Close the dialog discarding changes.

The Create/Edit Practice dialog is displayed whenever you choose to create or edit a practice schedule. This may be from the New dialog, the Creation Toolbar, and even the Project Tree. Click the Schedule tab to display this page.
Alt+Ctrl+S
---
Note: Some features described in this help file are only available in the Team Sports Scheduling System.