Team Standing Details Dialog
Description | Controls | Displaying | Keyboard Shortcuts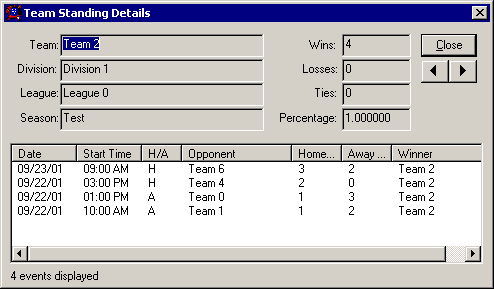 The Team Standing Details dialog displays the standings for the selected teams, and displays the games responsible for the standings.
Close button
Closes the dialog.


Next button
Moves to the next team in the list if available.


Previous button
Moves to the previous team in the list if available.


Team edit box
Displays the name of the team whose details are being displayed.


Division edit box
The division the team belongs to.


League edit box
The league the team belongs to.


Season edit box
The schedule name the standings are generated from.


Wins edit box
The total number of wins of games played.


Losses edit box
The number of losses played so far.


Ties edit box
The number of ties for the games already played.


Percentage edit box
The percentage of wins, losses, and ties.


Games list
The list of games for the selected team in the selected schedule.
To display the Team Standing Details dialog, double-click the team in the Teams list in the Standings view.
None
---
Note: Some features described in this help file are only available in the Team Sports Scheduling System.