Customize Page
Description | Controls | Displaying | Keyboard Shortcuts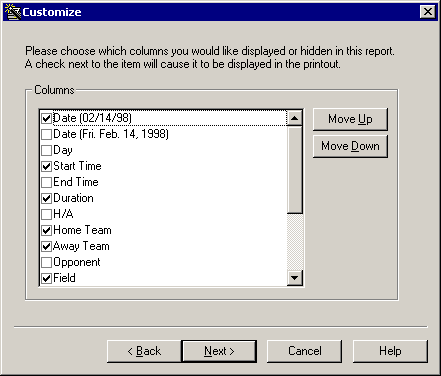 Use the Customize page to select which columns you would like printed, and in what order. The available columns is dependant on the specific report you are printing or exporting. When you have made your selections, click Next to continue.
Columns list
Displays the available columns for the specific report. To have a column and its data displayed in the output, check the item. Use the Move Up and Move Down buttons to move the selected item up and down in the list.


Move Up button
Moves the selected column in the Columns list up.


Move Down button
Moves the selected column in the Columns list down.


Back button
Goes to the previous page if available.


Next button
Click to continue on to the Output page.


Cancel button
Close the dialog.

The Print Wizard dialog can be displayed by selecting Print Wizard from the File menu, or by clicking the Create Report button on the Project Wizard.
Ctrl+W
---
Note: Some features described in this help file are only available in the Team Sports Scheduling System.