Season Schedule Now Page
Description | Controls | Displaying | Keyboard Shortcuts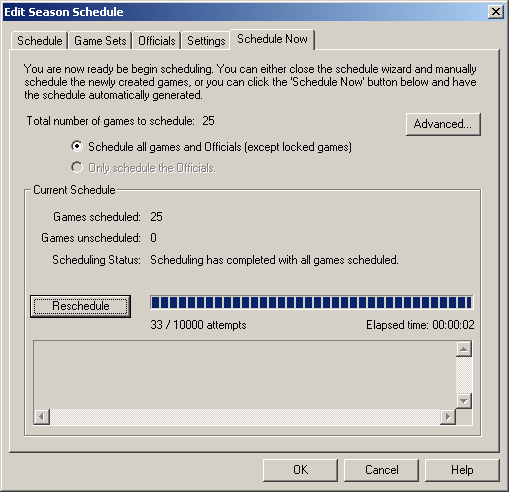 Use the Schedule Now page to have the Team Sports Scheduling System schedule your season automatically. Simply click the Start Scheduling button. If you would like to schedule the games manually, just click the OK or Finish button without clicking the Start Scheduling button.
Schedule Name page
Allows you to change the name of the schedule and also specify which master schedule and league to use.


Game Sets page
Lets you create the team pairings.


Officials page
If officials should be schedule, this screen allows you to specify which ones and how many per game.


Settings page
Change the season dates and other constraints.


Total number of games to schedule information display
Displays the total number of games to schedule in all the created game sets.


Advanced button
Allows you to customize how long to scheduler runs by displaying the Advanced Schedule Settings dialog.


Schedule all games and Officials (except locked games) radio button
Choose this option to have the program attempt to schedule all games and officials.


Only schedule the Officials radio button
If the season has already been scheduled and you have chosen to have to have officials scheduled, this option will be available. If selected, the games will not be rescheduled, only the officials will.


Games scheduled information display
Displays the number of games currently scheduled by the scheduler.


Games unscheduled information display
Displays the number of games still unscheduled by the scheduler.


Scheduling Status information display
Displays the current status of the scheduler.


Schedule Now/Stop Scheduling/Reschedule button
Starts or stops the scheduler.


Current Attempts information display
The number of scheduling combinations already tried by the scheduler. You can specify how many combinations the scheduler should try by clicking the Advanced button.


Elapsed time information display
The amount of time spent on this scheduling attempt.


OK button
Saves the changes.


Cancel button
Close the dialog discarding changes.

The Create/Edit Season Schedule dialog is displayed whenever you choose to create or edit a season schedule. This may be from the New dialog, the Creation Toolbar, and even the Project Tree. Click the Schedule Now tab to display this page.
Alt+Ctrl+S
---
Note: Some features described in this help file are only available in the Team Sports Scheduling System.