Tip of the Day Dialog
Description | Controls | Displaying | Keyboard Shortcuts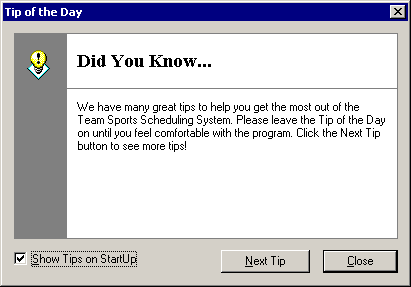 The Tip of the Day dialog displays helpful tips you may be interested in learning for using the Team Sports Scheduling System.
Show Tips on StartUp combo
Check this box to show this dialog at start up. This option can also be turned on and off from the Options dialog.


Next Tip button
Display the next tip.


Close button
Closes the dialog.


To display the Tip of the Day dialog, choose Tip of the Day from the Help menu.
None