Advanced Schedule Settings Dialog
Description | Controls | Displaying | Keyboard Shortcuts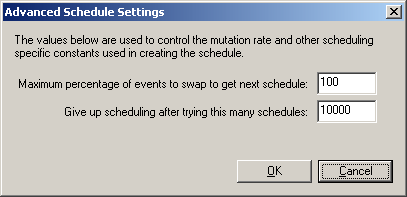 The Advanced Schedule Settings dialog is use to customize how the scheduler swaps games and how many schedules it tries before stopping.
Maximum percentage of events to swap to get next schedule edit box
Specifies the maximum percentage of games the scheduler should swap from one schedule to the next. It is not recommended that you modify this setting.


Give up scheduling after trying this many schedules edit box
Specifies the number of combinations the scheduler should try before stopping. In theory, the longer you let the scheduler run the more likely you are to get a better schedule. Faster machines should set this number higher, slower machines may want to scheduler to try fewer combinations so that scheduling doesn't take so long.


OK button
Saves changes and closes dialog box.


Cancel button Closes the dialog discarding changes.

To display the Advanced Schedule Settings dialog, click the Advanced button on the Season Schedule Now page.
None