Add Official Dialog
Description | Controls | Displaying | Keyboard Shortcuts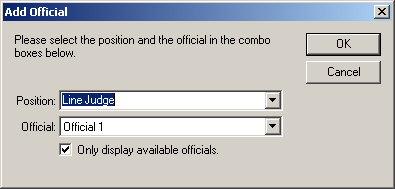 The Add Official dialog is use to add a new official, or to specify a different official or position for a game. Select the new official and the position and click OK to save.
OK button
Saves changes and closes dialog box.


Cancel button
Closes the dialog discarding changes.


Position combo
Select the new position for this official for the game. If the required position isn't listed, type in the new position name.


Official combo
Select the official from this combo box.


Only display available officials. check box
If selected, only the officials that aren't playing at the current game time will be listed in the Official combo box.
The Add Official dialog is displayed by clicking the Add or Edit buttons on the Game Officials Page of the Edit Game dialog.
None