Select Schedule Dialog
Description | Controls | Displaying | Keyboard Shortcuts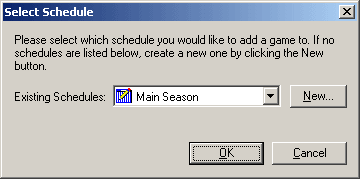 The Select Schedule dialog is displayed when you have selected to create a new game. Games are always associated with a particular schedule, and you can only add a game to a practice or season schedule.
Existing Schedule combobox
Lists all the available schedules in the project you can add the game to. Only Practice and Season schedules are displayed.


New... button
If no schedules are listed in the combobox, or you would like to create a new schedule, click this button. The Create Schedule dialog will be displayed.


This dialog is displayed when creating a new game from the New dialog.
None
---
Note: Some features described in this help file are only available in the Team Sports Scheduling System.