Select Date Dialog
Description | Controls | Displaying | Keyboard Shortcuts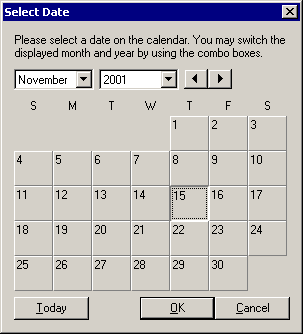 Use the Select Date dialog to select a new date. Click the date on the Calendar and click OK to continue.
Calender
Click the new date to select it.


Month combo box
Choose the month to view here.


Year combo box
Choose the year to view here.


Today button
Select today's date on the Calendar.


OK button
Saves changes and closes the dialog box.


Cancel button
Closes the dialog discarding changes.
The Select Date dialog is displayed whenever you need to select a date.
None
---
Note: Some features described in this help file are only available in the Team Sports Scheduling System.