Purchase Dialog
Description | Controls | Displaying | Keyboard Shortcuts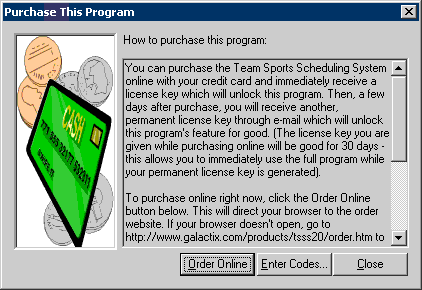 Use the Purchase dialog to find out information on how to purchase this program, and to enter the unlock codes provided after purchase. Click the Order Online button to be taken to the order website.
Order Online button
Click this button to be taken to the website where you can purchase this copy of the Round Robin Scheduler.


Enter Codes button
Click this button to display the Enter Codes dialog which will allow you to convert the evaluation version of this program to the registered version. All features will then be enabled.


Close button
Close the dialog.
This dialog is displayed by clicking the Purchase Now option from the Tools menu.
None
---
Note: Some features described in this help file are only available in the Team Sports Scheduling System.