Enter a Number Dialog
Description | Controls | Displaying | Keyboard Shortcuts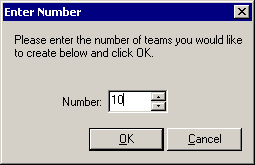 The Enter Number dialog is displayed when a number is required. Enter the number and click the OK button to save.
Number edit
Enter the number here.


OK button
Saves changes and closes dialog box.


Cancel button
Closes the dialog discarding changes.


This dialog is displayed by clicking the Change button on the Quick Create dialog.
None
---
Note: Some features described in this help file are only available in the Team Sports Scheduling System.