Contacts/Sponsors Page
Description | Controls | Displaying | Keyboard Shortcuts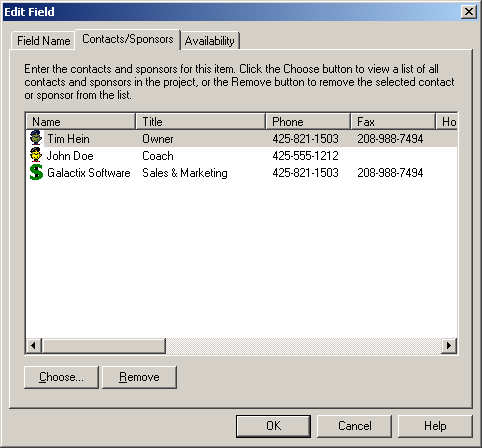 Use the Contacts/Sponsors page to assign contacts and sponsors to this item.
Contacts and Sponsors list
Displays the list of contacts and sponsors assigned to this item.


Choose button
Displays the Contact and Sponsor list allowing you to find the previously created contacts and sponsors to assign to this item.


Remove button
Removes the selected contact or sponsor from this item.


OK button
Saves the changes.


Cancel button
Close the dialog discarding changes.


The Contacts/Sponsors page is displayed when creating or editing a League, Team, Field, and Official.
None
---
Note: Some features described in this help file are only available in the Team Sports Scheduling System.